Warm Ups and Energizers for Online Workshops or Mindshares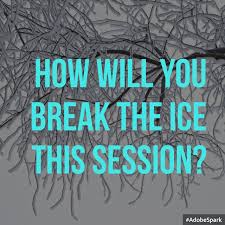 The article ( link below) might be useful if you facilitate online workshops or Mindshares.
The icebreakers are short, practical and fun, they can change the dynamics in the (online) room and help you engage the audience. You can use them in brainstorms, training sessions, committees, discussions and business meetings. They motivate and stimulate people. These techniques will help you to run much more effective meetings, your audience being more enthusiastic and engaged.
If you are not using MURAL, a digital and dynamic whiteboard enabling online collaboration, you can adapt the warm ups and energizers listed in the article in your own tool, or simply create a poll or animate the chat of your video-conference system.
My take-aways of the ones that can be used in different system: online whiteboard or chat:
Check-in
Ask the participants to share how they feel today in the chat using an image, a metaphor. Using an online whiteboard, you can ask them to google an image illustrating their mood and insert it on the online collaborative whiteboard.
Genie in a bottle
You can use this warm up to collect participants expectation from the session you are facilitating in the chat:
Ask the following question in the chat: "If you had three wishes (out of this session/Mindshare, or private/professional wishes), what would they be?" (instruct the participants to choose one word by wish, so that it is easy for the facilitator to make a summary).
If you are using an online collaborative tool, you can ask them to google an image illustrating the wishes and insert it on the online whiteboard  –> can be a good memory of the session.
Name the sound
Ask everyone to turn their webcams off.
Play a famous or less famous song, or a sound such as old dial-up modem, ocean waves, wind, etc.
Have the participants guess what sound you are playing in the chat
Shape up
Facilitator: Before you start, select 'gallery mode' for your video conference tool so you can view everyone's thumbnails in a grid format (all thumbnails should be the same size).
Call out a shape (for example: triangle, heart, square, the letter "A", tree, house, …)
Ask people to move their arms and hands up/down or left/right to recreate the shape in the gallery mode you're viewing.
When the team has managed to make the shape, ask them to hold it so you can take a screenshot. Share it with with the team and try to do another shape, progressively making them more complicated.
Enjoy!
https://www.mural.co/blog/online-warm-ups-energizers